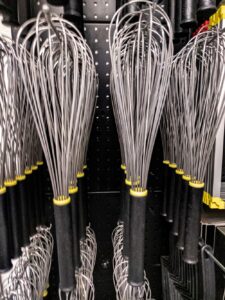 Chefs agree that when creating creams, sauces, and many different types of batter, the Matfer Bourgeat Piano Whisk is the go-to tool for blending, whipping, and beating all types of aerating mixtures in professional and home kitchens alike. Its instantly recognizable yellow ring has graced professional kitchens since its introduction in 1989, developing a cult following and becoming a stalwart in some of the world's finest restaurant kitchens. But how does Matfer Bourgeat turn a timeless kitchen tool into an extraordinary object?
History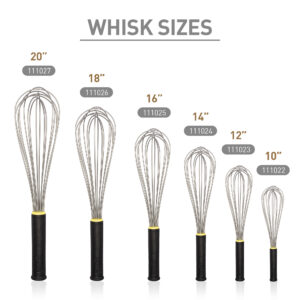 In 1989, Matfer received a patent for Exoglass, a polyamide plastic developed to perform in intense professional kitchen environments. The Piano Whisk debuted that same year. Like all Matfer products, the whisk was extensively prototyped and tested by working chefs before its production. Joel Robuchon contributed feedback to early versions, and the final product became a personal favorite of the late, great Chef. In the 31 years since its inception, Matfer Bourgeat has sold more than 3 million whisks to chefs, food service professionals, and home cooks on four continents.
Steel with Memory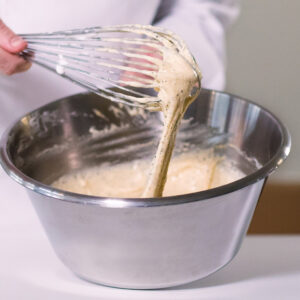 Matfer's manufacturers use a high-grade stainless steel which "gives memory to the shape of the whisk," explains Francois Bidoux, Matfer's Product Director. This allows for spring and pliability without compromising the long term-shape of the whisk head. This particular steel blend is used in numerous culinary, medical, and chemical engineering environments where hygiene and anti-corrosion properties are paramount. Each individual wire is welded into the whisk handle for a permanent construction that won't bend, break, or come loose over time.
An Extension of Your Own Hand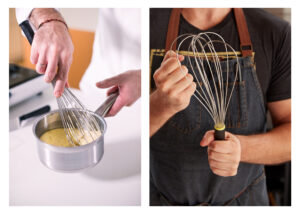 As many professionals know, water seeping into the joints or handles of kitchen tools can mean the end of heat-resistance and the downfall of a product's longevity. The Piano Whisk's careful metalwork is sealed into a pure Exoglass handle, waterproof and airtight to prevent this process before it begins. Knowing chefs spend many hours with their whisks, the handle is subtly textured to prevent slippage, and includes a flared pommel to prevent the whisk from falling into pots. The head and handle are carefully balanced to allow for a comfortable range of motion. These details represent the belief that, like a good knife, a whisk should be a comfortable extension of your own hand.
Lifetime Warranty
The Matfer Bourgeat Piano Whisk is designed to last. That's why Matfer Bourgeat USA backs  every purchase with a lifetime warranty. Contact us to learn more.