Camracks 4-in-1 Warewashing Design That Kitchens Love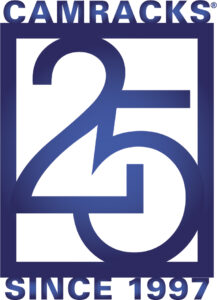 Glass racks are no stranger to the hospitality industry. And they may seem like just that – a glass rack. But 25 years ago, Cambro wanted a way to enhance the dishrack system, as it is a critical piece of each foodservice operation for keeping glassware hygienic and ready for use.
In came the first warewashing Camrack®, a unique 4-in-1 system with its closed wall design.
But why is the 4-in-1 design so popular in kitchens and event spaces? Here's how Camracks became the warewashing hero of the hospitality industry.
Get your glassware measured FOR FREE!
Efficient Washing
The design of the open inside compartments provides thorough circulation of water and cleaning solutions to leave items sparkling and promote quick and thorough drying, saving valuable time and resources.
Sanitary Storage
The closed wall design keeps dust and dirt, insects, rodents out and reduces touchpoints from employees hands that may contaminate glasses from the sides.
Less rewashing and handling reduces breakage and replacement costs. When you add a Camrack cover and Camdolly, the system is completely enclosed and no bacteria, dirty hands, rodents, bugs or dirty mop water can get inside!
The closed walls guarantee your inventory of glassware stay clean until they are needed again. No need to waste materials by having to wrap your inventory in plastic, then having to spend more time and resources to re-wash. From an operational standpoint, open walls can increase operational cost because staff will need to rewash glasses, increasing the cost of water, chemicals, utilities, and labor.
Inventory Control
Cambro created a variety of base rack colors to help identify both contents and quantity per rack at a glance.
Staff can easily identify Camrack contents quickly for accurate inventory control and selection with Extender ID Clips! These clips are virtually unbreakable and designed to withstand the high heat of commercial dishwashers, and are ideal for facilities that handle a wide range of glassware. Needing to change rack contents? No problem – simply change the clips and reuse the wash rack without confusion or messy relabeling.
Safe, Sanitary Transportation
The same Camracks you use to wash and store your dinnerware are the same ones you'll use to transport them. Their closed walls eliminate the need to wrap your racks in plastic wrap to keep them safe from contaminants, saving time, materials and money.
Smooth sides and rounded corners reduce risk of injury
Molded-in ergonomic handles on all sides provide comfortable handling
And there you have it!
But don't take our word for it, check out why Cambro customers love their Camrack Warewashing system.
Get Your Glassware Measured FOR FREE!
If you'd like to see how Camracks can improve your operation, please contact us for a free consultation.