New York and New Jersey schools continue to face challenges as we reopen…again. From remote learning, to safety procedures, and drastic changes and demands of food service operations for staff and students.
School foodservice operators are looking for versatility in their products. They want products that they can use now for to assist with foodservice during the pandemic but be able to repurpose and utilize in the future to make their operations easier.
Challenge #1: In-Classroom Meal Service
One of the biggest concerns faculty face is keeping food fresh and at temperature from kitchen to classroom. While the demand for a solution certainly increased during the pandemic, the issue is still critical.
Solution: Insulated Transport
Insulated transport allows for seamless kitchen to classroom transition. Our favorite, the Pro Cart Ultra, is able to hold BOTH hot and cold food at the desired temperature, at the same time.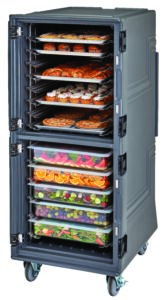 Insulates to maintain temperatures for 4+ hours
Exterior is rust-proof and dent-resistant for lasting service
8 sets of adjustable stainless steel rails hold food pans, sheet pans, trays, and large pizza boxes
See how this school in Minnesota effortlessly transported hot food across a school campus – click here to read
Solution: GoBoxes (including for Milk Crates) & GoBags
Rain or shine, heat or snow, the Cambro GoBox always keeps temperature quality for 4+ hours. Schools have relied heavily on implementing GoBoxes & GoBags into their classroom meal delivery.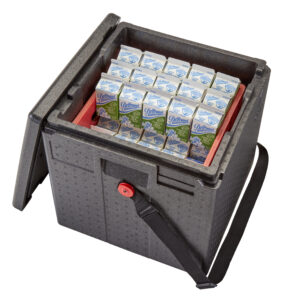 GoBoxes are lightweight, stackable and easy to clean – even offering an available dolly for easy transport.
See how this school was able to increase their breakfast participation from 20-80%. – read more
Solution: Ultimate Sheet Pan Rack
While the Ultimate Sheet Pan Rack was designed to hold sheet pans, it is up to the operator to decide what those sheet pans will hold. This is a great alternative to the larger insulated transports. You can pack and transport hot or cold meals to classrooms.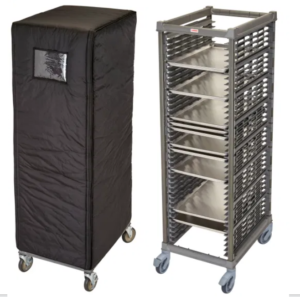 Choose from Full Size, Half Size or Undercounter models
Designed from the same durable material as Elements Series
Every part is removable and replaceable for lifetime service
Available with easily maneuvered metal or plastic rubber casters with brakes
See how this school feeds over 600 students in 15 minutes – click here to read
Challenge #2: Flexible Dining Locations
One of the biggest frustrations we keep hearing from directors is the need to be mobile. Besides in-classroom dining, schools have had the need to find alternatives to the cafeteria. Implementing remote dining and Grab & Go solutions has been a game changer.
Solution: Flex Station
Designed to meet school food service challenges, Flex Stations are a convenient and an easily accessible way for Grab & Go snacks and meals for school meal programs.
Durable, easy to maneuver and extremely versatile
5 different configurations
Fits with Cambro pans, bags and boxes⠀
Designed with Premium Series Camshelving (rust free guarantee)
See how one Texas school district is using Flex Stations to feed 67,000+ students – click here to read
Solution: Vending Carts & Versa Bars
Vending carts have been used for mobile food sales or events. Portable buffet systems to could be configured in a multitude of ways to offer hot or cold food to people in any cafeteria setting. 
The pandemic has brought on the need for alternative/flexible feeding locations. You can maximize social distancing by setting up multiple stations within a cafeteria to avoid lines, or set up satellite feeding locations in an auditorium, gymnasium, or even outside as the weather gets nicer.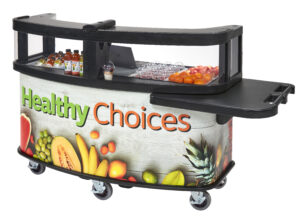 Durable, easy to maneuver and extremely versatile
The open well design fits 5 full size food pans
Optional Safety Barrier to protect food, staff & students
Suited for indoor or outdoor use
A wrap is included with every Cambro Vending Cart. You can choose from a range of colors and designs or customize it with eye-catching graphics of your own. Schools can put their spirit on display with a logo or mascot while providing functionality. – click here to read
SEE SOMETHING YOU LIKE?
Contact us for pricing or samples.