Servicing the New York Metro Area, New Jersey and Keystone regions.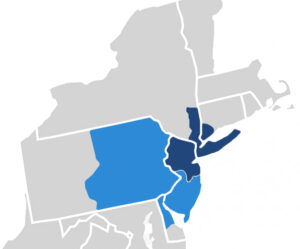 Cambro is one of the leading commercial foodservice smallwares manufacturers servicing restaurants, hospitality, K-12 schools, heatlhcare, corrections, catering and more. From once offering a single product, the Camtray, sixty years ago, today Cambro offers a wide range of trays, table service and display items, storage, shelving, merchandising and insulated transport products, as well as innovative warewashing systems and healthcare meal delivery solutions.
Download your copy of the wide variety of safe, high quality delivery, takeout and transporter products for your restaurant or food service operation's increased delivery demand. Contact a sales representative for custom solutions.
Cambro offers insulated transport solutions for the hospitality industry, restaurants, hotels, caterers and school foodservice operators.
We always preach that food safety is paramount, but it's more important now than ever. Restaurants curbside pickup and delivery have continued to stay in high demand, there are efficient ways to keep food ready for customers before arrival to ensure it will be kept safe and fresh.
Encourage your customers to keep coming in by providing the same quality food to their car as you do to their table. The most effective products for this job are the Cam GoBags and Cam GoBoxes. Caterers rely on our insulated transport options like the Pro Cart, able to hold food temperatures for 4 hours +.
DOWNLOAD DELIVERY GUIDE
Cambro Pizza Delivery and Takeout GoBags
Top 4 Restaurant Delivery Products
NEW Cambro GoBag Delivery Backpack
Delivery Success with the Cambro Cam GoBox
Cambro Takeout and Delivery GoBags
Tamper Evident Labels for Delivery
Cambro Vending Carts for School Food Service
Cambro Foodservice Favorites for K-12 Schools
Cambro K-12 School Hydration Station
Products for Successful Outdoor Dining
Maximize Space with the CamBar
Compact Adjustable Dish Caddy
How Camracks Became the Warewashing Hero
Camracks 4-in-1 Warewashing Design That Kitchens Love Glass racks are no stranger to the hospitality…